Linux Mint si aggiorna: dalla 19.1 Tessa alla 19.2 Tina
Inviato: lun ago 12, 2019 10:03 am
La notizia non è freschissima, in quanto risale al 2 agosto scorso, però ho creduto di darne comunque conto: Linux Mint si aggiorna alla versione 19.2 "Tina".

Personalmente, se non fosse stato per gli annunci "Latest news from the Linux Mint blog", impostati come pagina principale all'avvio di Firefox, non mi sarei nemmeno accorto della nuova release.
Sopratutto perché l'avanzamento si ritrova (soltanto e per ora, almeno) nel menù a tendina in "Update Manager - Edit".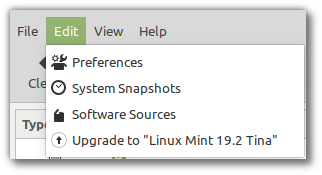 https://www.linuxmint.com/start/tina/
"It is now possible to upgrade Linux Mint 19 (or 19.1) to version 19.2. If you've been waiting for this we'd like to thank you for your patience. 1. Create a system snapshot You can use Timeshift to make a system snapshot before the upgrade. If anything goes wrong, you can easily restore your operating [...]"
In breve e come liberissima quanto personalissima traduzione: "E' ora possibile aggiornare Linux Mint 19 (o 19.1) alla versione 19.2. Se eravate in attesa, vi ringraziamo per la vostra pazienza. 1. Create un'immagine del sistema. Potete usare Timeshift per realizzare un'immagine prima di aggiornare. Se qualcosa andrà storto, potrete facilmente ripristinare il vostro sistema [...]"

Da "The Linux Mint Blog": "How to upgrade to Linux Mint 19.2"

E ancora: Download Linux Mint 19.2 Tina (Cinnamon, MATE e Xfce; sia 32 bit sia 64 bit).

Per le note di rilascio, qui: "Read the release notes".
Precisazione: "Linux Mint 19.2 is based on Ubuntu 18.04."

Spero interessi o sia utile a qualcuno.